Your imagination and intuition are powerful allies in your evolution. Mariabruna Sirabella invites you to transform them into tools for reclaiming the value of your life's key experiences by means of your creativity.
Our linear mind and analytical powers, as useful and necessary as they are, can only take us to a new understanding and re-organization of what we have already experienced-- imagination and creativity open the door to the unknown.
This workshop includes collage, journaling, visualization, and other processes to tap into your expansive imagination and generate a new narrative rich with evolutionary and transformative potential.
You will learn to:
Apply imagination and creativity to the poignant moments in your life and integrate them on a new level
Develop your perceptivity and intuition through collage
Give voice to your images and see what emerges when you look within
Welcome whatever bubbles up for greater self-awareness, self-confidence, self-reliability, and self-mastery.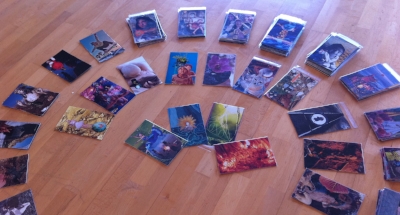 Your unique mythology and your personal story unfolding through images...
Every personal story is engineered through the unpredictable and inescapable encounter between our own nature, will power, and the forces we dance with. Along the journey, sometimes we forget our inherent wholeness and potential.
This empowering experiential workshop invites you to take a fresh look at who you are, what you have gained throughout your life, and what you have contributed already, as you reimagine your lifeline with new perspective.
Discover how to use collage to travel back in time to the events of your life and discover a fresh perspective on who you are and what you are here for.

Gain creative and empowering tools to connect deeply with yourself on your evolving, expanding life journey and open up new possibilities.

Develop your connection to intuition, creativity, and imagination in a safe, supportive, and welcoming community.

For leaders in any field, SoulCollage® supports organizational development, conflict management, and compassionate awareness.

For those in the helping professions, SoulCollage® has been used in hospice, hospitals, and clinical settings.